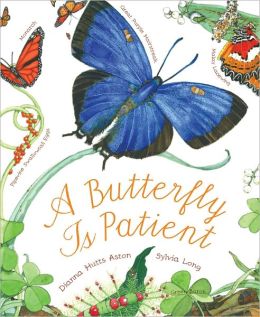 I had to put all of these on hold
. I couldn't even wait a few weeks in between each, I had to see all of them within the same week or two time period so I could soak up the beauty found in each page of Sylvia Long's amazing watercolor creations, and Dianna Hutts Aston's written word series of nonfiction picture books. I first heard about the newest of the four,
A Rock is Lively
(see below), that came out late August last year from the
Imagine Childhood blog
. The blog is a favorite of mine that has beautiful photos of 'nature walks' all around the world, gorgeously curated book lists for little ones, and their pride--the toy
store
Imagine Childhood, that sells quality toys, tools, books, and materials for children to truly create a love of nature and the wild outdoors.
A Rock is Lively appeared on one of their book lists and I had to find that book at the library. The front cover illustrations alone were so intriguing that when I realized there were others like it, I right away told my co-founder Maria on her facebook page! I knew she'd also love to share these with her daughter. Right away I put all of them on my library hold list and went through each one intentionally with my kids. The illustrations are bar none by Sylvia Long. There are few books where all in the series are as meticulously illustrated, with added interesting layouts and factual snippets falling all across the page fluidly by Aston.
Each of these books are put together with a non-fiction topic in which scientific and aesthetic quality is discovered throughout the pages. At the beginning and end of each book, where the usual 'blank page' is, there are illustrations of 'before' and 'after', if it applies. For example, in A Butterfly is Patient, the before picture is filled with little colorful caterpillars of every size, shape, and name, and the after, of course, being the same as butterflies. Many of the illustrated butterflies I have never even heard of nor seen, and one just has to marvel at the design and beauty on each one.
These four books hold a great quality found in children's books--inspiration. I can see many, many projects blossom from these pages, including side-walk chalk or watercolor activities, nature notebooks and field guides drawn up from children, one's own caterpillar-chrysalis-butterfly keeping project, photography snapping, and documentary watching. As a homeschooler, I am often on the lookout for books that provide just that- a starting point to where the child's interest can spurt and fizzle outward into a long, continuous learning experience or project. These beautiful books are just that!