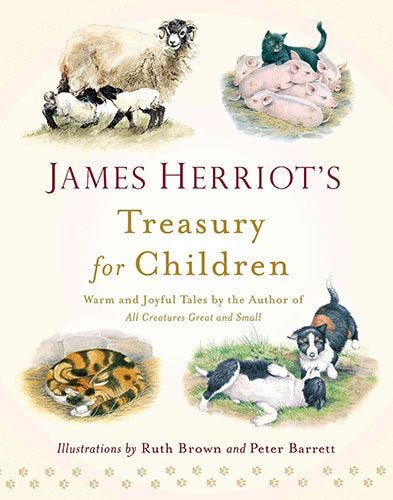 photocredit
When I was little, one of the handful of jobs I wanted "when I grew up" was to be a veterinarian. I love animals and have always enjoyed their company. It's no surprise that I begged for a dog for decades, and one of the most thoughtful gifts I've ever received was a puppy from my husband in our first year of marriage. I'm jealous of those who call country bungalows 'home', and I have mighty plans to someday have property where I can house dogs, a cat or two, hens, bees, and a couple of ducks: Basil and Patty. Surely you'd expect me to have names! It should be no surprise, then, that I would absolutely adore James Herriot's
Treasury for Children .
James Herriot was a pen name for British surgeon James Alfred Wight, who as a country vet himself, retold many of his semi-biographical stories in his book "
All Creatures Great and Small
". His Treasury is a book of 8 condensed stories with beautiful illustrations by Ruth Brown, miraculous and simple tales of animals and their people. I first heard about this book from the
Sonlight
catalogue, which I use for their wonderful lists of '
living books
'. I ended up requesting it from the library, along with the audio version, because each story is fairly long, and I thought it would enhance the reading with characters' voices. It was worth it.
The stories in this Treasury are all set in England or Scotland, where the author lived, and placed firmly in rural settings in the early part of the 20th century. Your entire family will truly love this compilation. You can even enjoy more of the stories on an older tv series created in the 70s, which 87 episodes on Netflix called "All Creatures Great and Small" are streaming free on netflix! Each story is truly endearing, whether it's about an orphaned cat, a frisky lamb, or old horses, and all have the theme of care for animals and each other; and what a responsibility and honor it is to share lives with creatures--great or small.