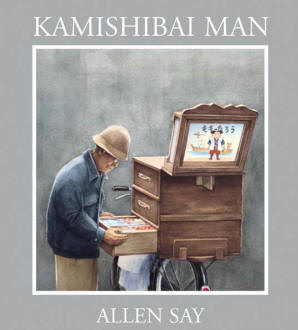 When reading Allen Say's beautiful books, you can usually expect a historical and cultural lesson, and
Kamishibai Man
is no exception. I first caught wind of Say's work when I picked up
The Bicycle Man
at a library book sale, and found the book written like a child's memory from decades ago. I've been a fan of his ever since and have picked up a few more here and there, and tried to read all of his books through the library system to my kids. My two, even though they are too young to know author names, and historical nuance, are always quiet and still when listening to a Say book. It's like they sense the importance and the historical tone of the story.
Kamishiabi Man is a story about a man who is remembering his job of Kamishibai, or the tradition of Japanese storytelling with picture cards for emphasis. It originated before television, and was a popular way to be entertained (and perhaps then to make money by selling candy to children). The Kamishibai man takes a large wooden cupboard on his bike, stocked with the painted cards correlating to different stories, and drawers full of homemade candy. It reminded me of a theater, but instead of puppets, placards.
A lot of Allen Say's books use very muted colors, to emphasize the story as a memory, or to put it in historical context, often dating to the second World War. Many of his stories are about Japanese traditions, folklore, or cultural references, and I love that about his books.
*If you are interested in learning more about Kamishibai, this
website
might be helpful.*